Back in the early days, when the internet got discovered, websites were known as pages of information with text and images that were not only easy to access but also complex to make by professional web developers. However, the internet was growing at a much faster pace than ever. WordPress was found by the keen observers who understood the gap between a normal layman and a professional web designer so they formed a CMS that could help you build a website in a very easy interactive way.
You might have known that WordPress is not only the most popular website builder in the world but WordPress also powers more than 43% of the websites in the world, it wasn't as easy as it looks like. The start of the story teaches us the power of open source communities and their contributions to make something useful without compromising the freedom and quality of the software. Project WordPress is a CMS driven by a community of dedicated developers, consumers, and supporters.
WordPress was launched by Matt Mullenweg, in 2003. It was well-received by the users. The first version of WordPress had features like a new admin interface and a new templates system. In 2004, version 1.2 with premiere engineering WordPress website development experts came up with new features like plugin architecture that enabled users and developers to extend the functionalities of WordPress by writing their own plugins and sharing them with the rest of the world.
In 2008, Happy jog joined the WordPress website development CMS Project to help design a new admin User interface. A comprehensive study was conducted to design the admin UI.
In 2013, the WordPress Website Development team came with up a new automatic update feature that allowed WordPress to automatically update the website's software for minor and major security-related releases, and by this time WordPress became the most popular CMS in the world. Choosing the right wordpress website design company also plays a vital role for mentorship and consultancy from industry experts.
Most of the users use WordPress because of its flexibility, beginner-friendly admin panel, and massive themes collection with thousands of free plugins library. WordPress can be set up quickly without writing any piece of code. 
Following big companies in the world are using WordPress CMS for their websites.
Angry Birds

Playstation blog

Tech crunch

Disney books

CNN Newsroom

TED Blog

The Spotify newsroom

Mashable

Wired

Microsoft News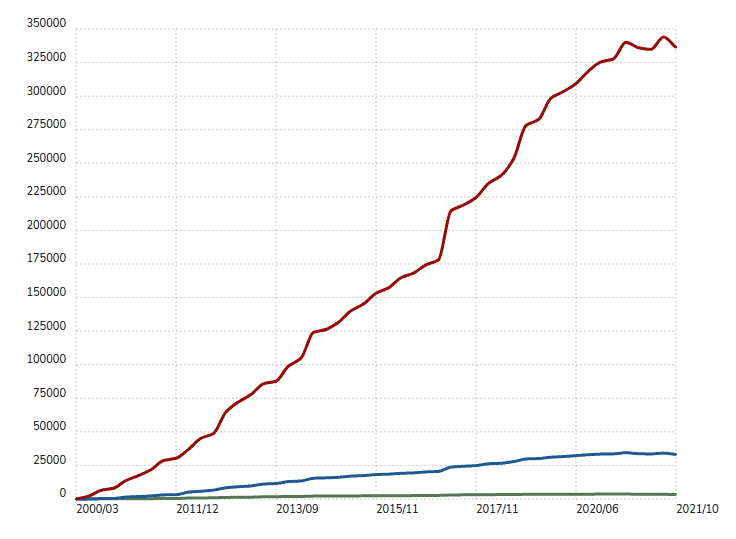 A chart representing the stats on the usage of WordPress over time.
In 2020, we discussed the must-have of WordPress plugins, and the best of them used to upgrade not only the security and Search Engine Optimisation but also the speed optimization of the website using the modern plugins. All of the given plugins have been researched and recognized by the best wordpress website design company in the United States. In this blog post, we discuss 7 must have WordPress plugins in 2022 for websites related to SEO, security, optimization, image compression, and caching.

Yoast SEO has been in the industry for a very long time as compared to Rank Math but we can't deny the quality of both SEO plugins because of the phenomenal numbers and the reviews.
The First SEO Plugin All in One SEO for WordPress was released in 2007 for better search results to all the wordpress website design company to use for better search engine results, later Yoast was introduced in 2010 with a better and optimized version at YOAST took the SEO world by storm by providing good SEO results, until RankMath joined the industry.
 Rank Math gives multiple features on its free version where you can get analysis for multiple keywords. Other features like 404 detection, a redirect manager, local SEO features, internal link suggestions, and more. 
Most of the features highlighted above are either available or are paid on Yoast SEO. choosing Rank Math is right because it meets requirements from the ground to the above. However, if you like using titles/descriptions to optimize a single keyword, you are not getting the value of the feature. The best thing about Rank Math is modularity. You can turn off any feature you don't want to use.
Easy to Follow Setup

Clean and Simple UI

Content AI – Personal AI

Google Analytics

Rank Tracker

 WP Rocket

WP Rocket is one of the best premium cache plugins for WordPress. WordPress developers call it the most powerful caching tool because of its wide range of options and fast optimization features. It is also user-friendly that can be used by experts to wordpress beginners.
Like other caching plugins, you don't have to be a code or an engineer to learn WP Rocket.
WP Rocket caching works to ensure the speed of the website, which is not only essential to improving the SEO of the website about also to increase the conversions. Where the main aim of WP Rocket is to make it a very user-friendly experience to play with plugins, with the site's installation methods.
WP Rocket takes care of all the hassle, and no programming or engineering experience is required to improve the speed of the website. Just after the installation, the sudden speed boost can be observed in loading time along with new GTMetrix and PageSpeed scores!
The ability to customize settings and make the most out of the superpowers of WP Rocket. You have a wide range of advanced functionality to choose from lazy-load to images to XML sitemaps preloading, Google fonts optimization, and CSS/JS modification deferred loading of JS files and database optimization.

Wordfense is the best plugin for WordPress websites where it combines login security, firewall, malware scanning, and other crucial security tools. 
Wordfence blocks all the malicious attacks that can affect your websites. It also guards against one of the prominent attacking patterns. You can also make a trigger button or block the fake Google crawlers. It can also save you from the brute force which is a login attack and if you sign up for a premium account it can help you get their real-time IP address blacklist, so if there is an attack being performed on the server, you already have a security layer that is hard to pass by.
Wordfence automatically scans your website regularly, where it also removes the malicious files if found, and after that, you can get an email that a plugin is outdated or WordPress needs to be updated or files changed in your sites plugin section and you really need to update to check because it didn't update.

WP-Optimize is one of the best all in-in-one WordPress Performance Management plugin to clean and optimize the database, compresses images, and enhance the quality of fetching data from the server. WP-Optimize is not only simple but a very popular and highly effective tool built to keep your website up-to-date and thoroughly optimized. WP-Optimize's beta version started as a cache database optimization plugin that was later upgraded to optimize the entire infrastructure of the WordPress website with a speed optimization plug that can
Enhance the speed of page caching

Compress high-quality images into smaller sizes.

Enable Gzip compression algorithm for speed.

Optimize Database by cleaning wrong input values.
The Premium Version of WP-Optimize can provide extra features like:
Scheduling database cleanups

Remove the unused images from the database

Lazy load images through optimization screen

Optimize individual database tables with faster queries.

The liberty to create your own customized backups, which are simple, quicker, and a lot safer.  
WordPress like any other website builder content management system can be vulnerable at times, which includes server crashes, getting valuable data hacked, or other security flaws such as outdated plugins, insecure web hosts, or irregular theme updates. If anything happened to your website it will not only cost you, your time but money and reputation in parallel.
Your WordPress backups are your best investment that has an exponential return from your website. We all have heard the famous financial advice to save some extra bugs for a rainy day, some examples we can relate here is, the backup of database we store each and every day. We never know if the server gets hacked, it can be a new update or your server might bust. Without having any good backup plugins with mixed reviews or no professional, how can you find the right one?
UpdraftPlus simplifies backups and restoration. It's one of the best world's highest-ranking and most popular scheduled backup plugins, with over three million currently-active downloads, where you can back up your files and database backups into the cloud and restore within seconds with just a single click. You can easily backup all your valuable data directly to Google Drive, Dropbox, Amazon S3, and email. The paid version also backs up to Microsoft One Drive, Microsoft Azure, Google Cloud Storage, Backblaze b2, and WebDav.

When it comes to adding input field forms to a website. WordPress is known as the best choice, WordPress is not the only choice for everyone but powerful options of WordPress are game-changers that understand the market gap of overall plugins. Unfortunately, it is hard for new users to understand. Let's take a look at what WPForms has to offer.
If you want to add a simple and standard form to your wordpress website, then the free version WP forms lite plugins become very handy and highly recommended. Not only does this plugin makes adding a contact form very easy but the user-friendly environment of drag and drop gives a straightforward direction to add additional fields to your form that re-arranges how they are displayed.
But in order to get access to more customized fields such as the URL, date, time, and file upload. This is where the paid version comes in handy which is a comparatively very inexpensive way to get access to most of the premium features of WPForms.

Short Pixel, one of the famous plugins of WordPress that uses modern compression algorithms to lower a load of data in websites by optimizing the pictures.
Shortpixel was built as an advanced image optimizer that not only improves website performance by reducing the size of the image using an optimized compression algorithm and serving the images on web page from CDN where optimized images are not only smaller but also visually very similar to the original heavy sized images.
A significant part of website data is comprised of high-quality pictures which often increase the loading time of web pages that affecting not only the quality but also giving a bad impression to the user. Short Pixel is a game-changer where it compressed your image and also boosts your SEO performances with robust search engines. Here are the top-five ways why you should choose Short Pixel?
Support of Next generational images formats

Convert PNG to GIF or JPEG

100MB file size limit

Automatically scales down images

Cloudflare integration 
Conclusion

This concludes the list of the seven must have WordPress plugins in 2022 for business websites. You may not require each and every one of them at once but most of these plugins and tools mentioned are on our top priority list that can come in handy at any point and it's also very common for our readers to end up using at least five of them that we mentioned.
If you liked the article, please follow us on Facebook, Twitter, and Youtube.