Web development has become a popular skill because of its high earning rate. People are learning web development skills to keep up with the ever-advancing world of technology. Whether you are new to the field or want to polish your web developer skills, various online platforms can be really helpful for you. You can learn the skills even if web development is completely alien to you with the help of web development bootcamp. 
What resources do you need to learn a new skill when you have the internet? The Internet is a huge pool of knowledge and the best teacher. Numerous web development courses online enable you to learn or improve your coding skills. We all know coding is essential for web development, and these online platforms will teach you coding in the best way. 
With technological advancements, careers depend more on the skills than the degrees. Even when you have the degree, you will only score a good job if your skills are polished enough. So, it is time that you refine your skills to get a good web developer job.
Why become a Web Developer?
Web development has taken the world by storm with the digitalization of everything. Every business requires a sound website to be successful in their business. Therefore, the demand for web developers has increased over the years and continues to do so. Web Development has become quite a career-promising skill with a potential growth opportunity. 
Many web developers in Houston and other world regions provide efficient web development services. Therefore, once you have developed your skills, you will have numerous career opportunities at different platforms and companies.
You will get various on-site and remote work opportunities as a web developer. The flexibility and high demand for this skill have made it quite popular among the new generation as the majority look for efficient web development courses to learn and polish their skills. 
What is the Average Web Developer's Salary?
The average web development salary in the US is around $81,000 yearly. The demand for web developers is increasing daily with everything going digital. Therefore, we can also expect the earning rate to increase with the demand. Even now, the front-end web developer's salary is approximately $102,500 in the US. 
Therefore, it is surely the right time to invest your time and money to learn web development skills. Now, you can easily get a web development degree online that will enable you to practice and refine your skills. But in case you don't have time to learn the skills and are looking for a web development company Houston, you will have to be wise to choose the right team with polished skills. 
Latest Web Development Technologies
We get to learn about new rules of technology with each passing day. Therefore, keeping up with the latest web development technologies is important if you want to learn web development. It is also necessary if you want to land a good web developer job. Here is a list of some of the latest trends in web development that you must learn about:
Blockchain Technology

Virtual Reality

Internet of Things (IoT)

Multi-experience

Voice Search Optimization

JavaScript Frameworks

WebAssembly

Dark Mode

Mobile-Friendly Web Development

Responsive Websites

Cloud Computing

And much more. 
Best Web Development Languages You Must Know About
Here are some options if you want to know about the best programming language for web development.
JavaScript

Java

Python

Swift 

C#

HTML
And others. 
Top Websites Offering Exceptional Web Development Courses
If you are curious about how to become a web developer without a degree, here is the answer for you. Here are some reliable online platforms that provide full stack web development courses.
1. Codecademy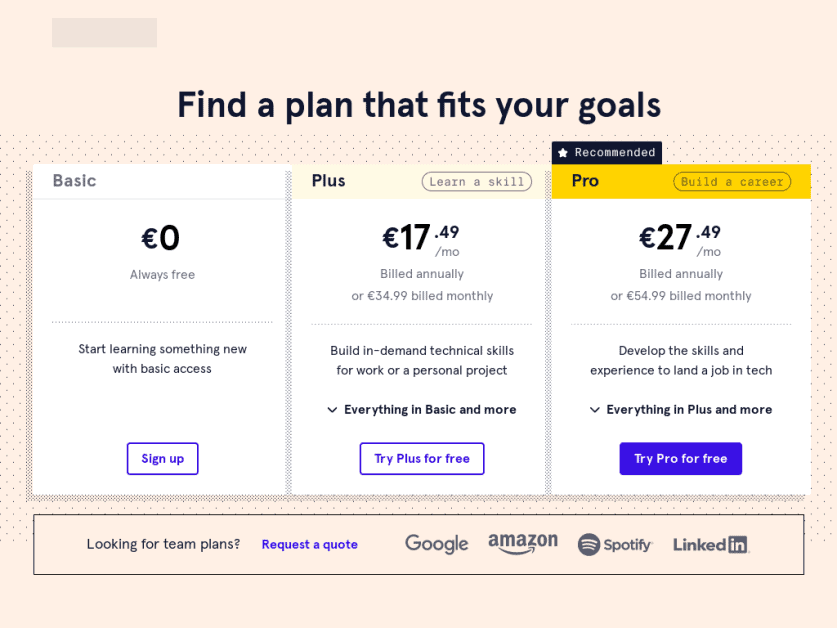 Codecademy offers free access to free courses, resources, community, and limited practice on mobile apps. This free access is called the basic plan on the Codecademy website. However, for full access to the courses for nearly all web development languages and skills, the pro plan offers all for $23.99 per month. Moreover, in the pro plan, you can also prepare for your job and polish your skills under the guidance of experts. Code challenges, assessments, quizzes, and professional certifications exist for the best job landing.
While learning to code, you may keep up with the most recent web development innovations using the website's videos, articles, and blogs.
It is one of the top-ranked websites for online courses in web development. There are courses available for nearly all web development languages. There are hundreds of courses in nearly all niches for free and paid. As a beginner, you have a wide range of options for you to select.
2. CodeWars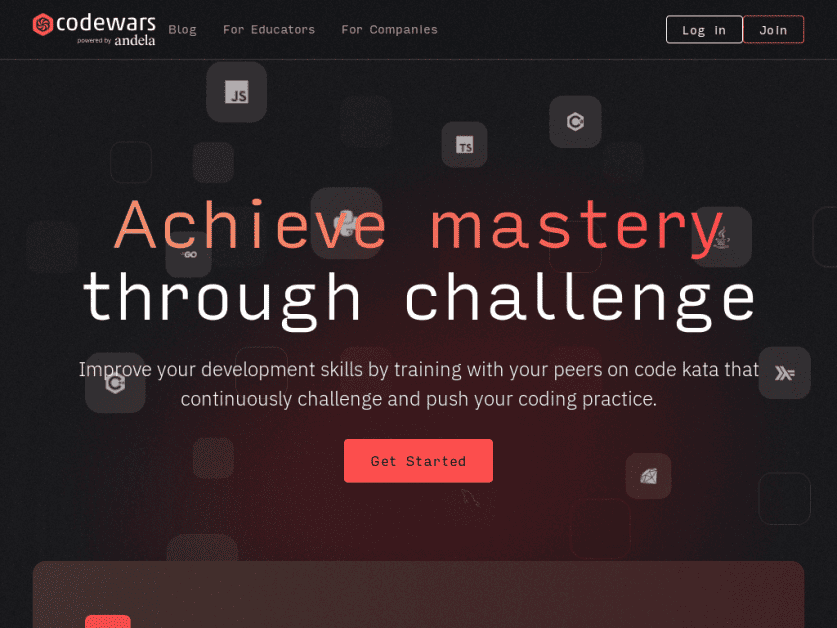 With over 29 languages to review, Codewars urges you to improve your abilities, accomplish authority, and speed up your profession in programming languages.
Having a martial arts-like website adds some fun to web development. Its preparation practices are called katas. When you sign up for a kata, you can utilize experiments to really take a look at your advancement. Amazingly, it is completely free. You can level yourself up with free practice on Codewars. This practice, or we can say Code War, will polish your combat skills in the everyday challenge of your coding.
You can take an assessment to know where you stand in your coding skills. This will help you choose the right kata from all katas and improve your web development skills. Web developer skills are more polished in challenging situations, and this is what Codewars offers.
There are various choices to practice with imaginative and upgraded approaches. You would be matched with relevant challenges to help you master particular skill sets. It gets tougher and more challenging as you complete higher-ranking katas.
 

3. Coursera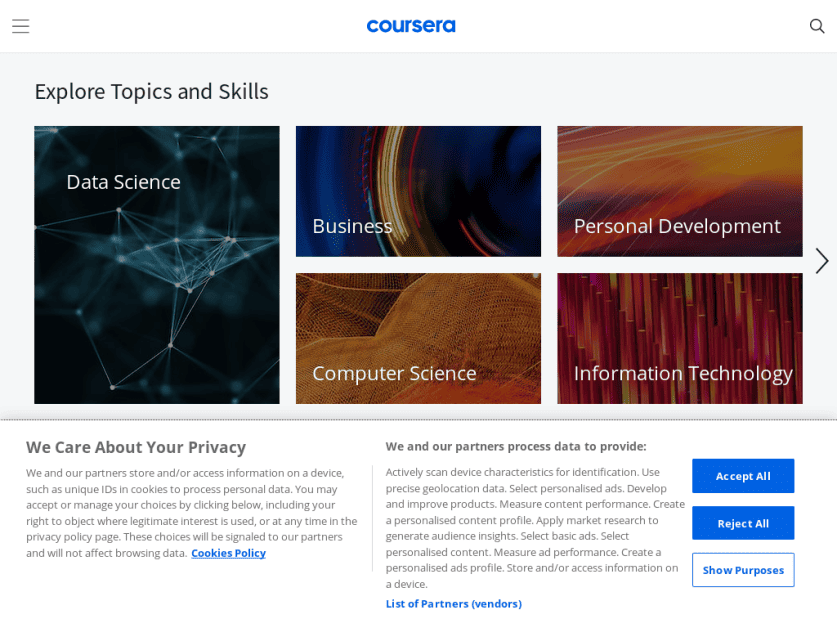 Coursera owns the biggest collection of MOOCs (Massive Open Online Courses). This is really helpful to choose what you need the most. Coursera is not just limited to online courses. They also have partnered with the most reputable universities in the world, like Yale, Stanford, and Princeton.
On Coursera, you can take a course to learn web development and secure a degree in your relevant field. A degree from a prestigious university can help you get more than you can think of.
Their model of courses is more focused and fixed, and they also require you to enroll. You can take an assessment quiz or test or a web development tutorial to better understand your position and choose the most required skill set to learn.
However, Coursera is not free. For courses, it can cost you from $9.99 to $49; the same goes for guided projects. Moreover, if you plan to earn a degree for your career, the cost will start around $9000, and it changes according to the program you select. A professional Coursera certificate of 4 to 7 months will cost you about $39 per month.
 

4. Pluralsight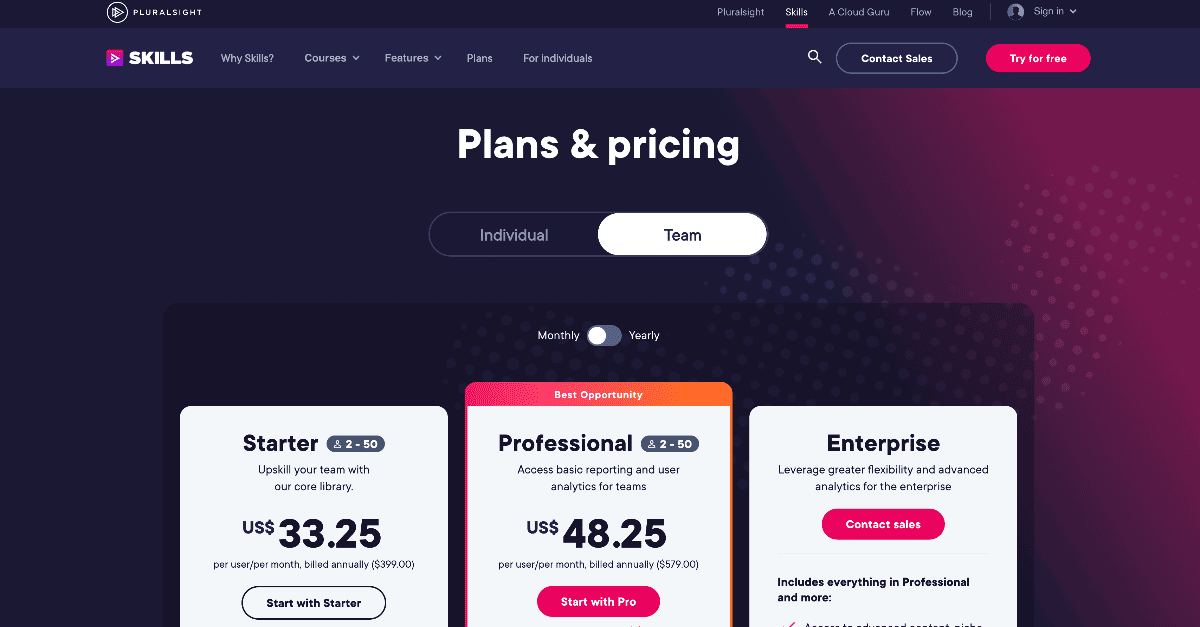 Pluralsight is another uniquely built platform for you to become an expert in coding. The most unique feature of Pluralsight is that taking a Pluralsight IQ assessment can help you find gaps in your coding. This on-demand course capability helps you boost your web development skills. Pluralsight is not just about coding and web development. It covers various web-handling features, from cybersecurity to data handling to software development. There are over 7000 courses available for you. With a 20-question test to take on start, you can choose what suits you the most.
Pluralsight is not free; however, it offers 7 7-day trial with each subscription. The pricing can range for individuals from $19/month for a standard subscription to $29/month for a premium. In the standard plan, you get limited access to a library of 2,500 courses with assessments for skills and learning paths.
However, in the premium plan, you can access the updated library of 7000+ courses, previous recordings, all content and coding projects, certifications, exam preps, and coding challenges.
5. Treehouse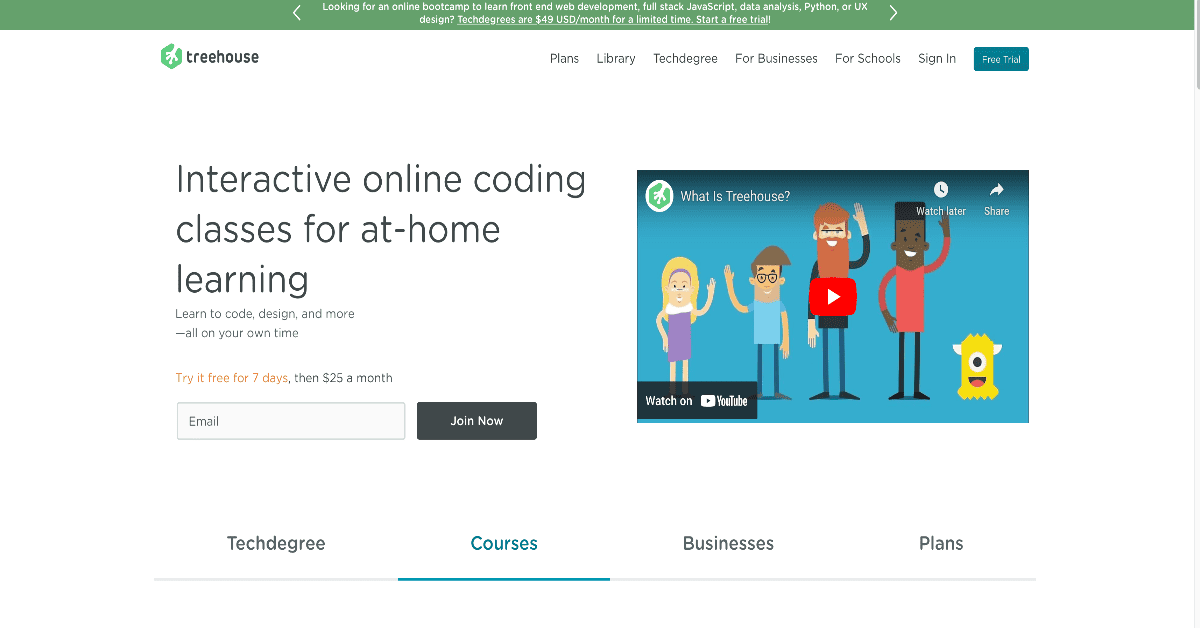 Treehouse is one of the top online learning platforms offering web development courses. Pricing plans here on Treehouse are categorized for courses and businesses. With a basic plan of $25 a month, you can access the courses' library, quizzes, assessments, code challenges, learning tracks, and online student community.
Moreover, a plus plan for $ 49$ a month gives you extra access to Treehouse conference sessions, career-focusing talks, and supplemental coding content. Like Coursera, but with a different look, Treehouse offers a tech degree program to start a new career. A tech degree on Treehouse will cost you up to 199$ per month with a curated curriculum and many other benefits. You can also boost your business by securing team training sessions at Treehouse with 299$ per seat per year.
Treehouse offers expert-hosted videos, quizzes, code challenges, and much more. This activity of testing your limits makes you more confident while covering the gaps.
6. The Odin Project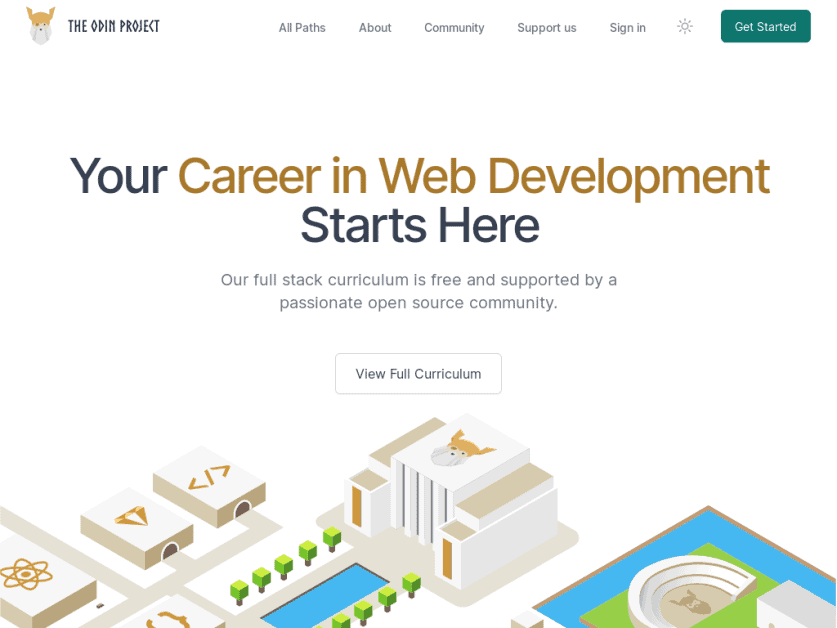 The most amazing thing about The Odin project is that it is absolutely free. They cost nothing while ranked at the top of the web development online courses platform. Moreover, this no-cost access does not cost you not to be updated. The platform's library is constantly updated, and the statistics are shared on the platform's homepage. The wide online open-source community and contributors also support the Odin Project. Its completely free full stack web development course course library is updated and filled with new innovations by contributors around the globe.
There is no pressure on you here; you can follow your course with your pace. You can also participate in the community by being part of Discord. Amazingly, if you master the skills and level yourself up, you can also be a part of the contributors.
 

7. Udemy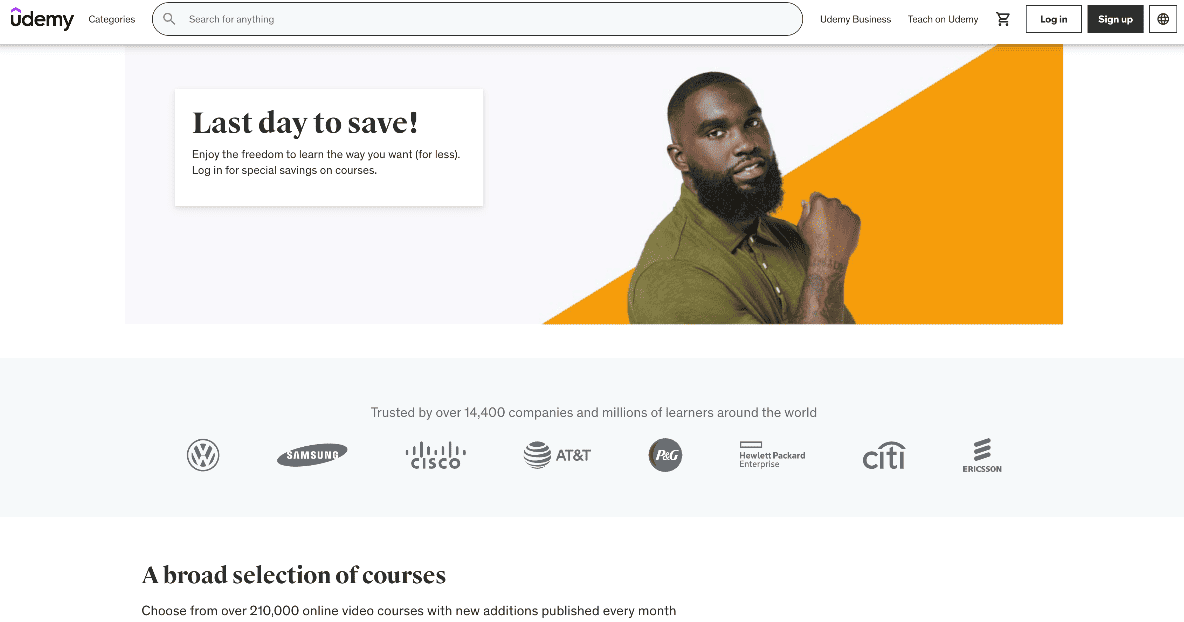 In the world of online learning, Udemy is a giant with excellent web development training. They have stacked over 80,000 courses with many categories topping web development. Though it is not free, it allows you to preview some lectures to see if they suit you.
On Udemy, each course offered in a specific category gives you unlimited access to the lectures of a specific instructor. Moreover, you can always get help from Udemy's online student community. This also broadens your view, and your problems are discussed on a bigger canvas.
Udemy offers a basic plan for web developer courses starting from $16.58 to a pro plan of $199.99 with full access to their courses. However, the access is always limited to the category you choose.
Summing Up 
The important thing to remember is to deeply study the platform and judge it according to your needs. It was very difficult to choose 7 platforms out of hundreds. There are still a large number of online web development courses available to excel in. This includes free and paid versions.
Most of these learning platforms own necessary coding challenges and a cooperative community. Therefore, you can test your web development abilities and keep tabs on your development. As well as being online and independent to learn, none of these courses require any related experience.
As a matter of fact, the majority of these courses are friendly to beginners and help them get advanced in their skills at their ease. So, choosing a paid and well-reputed course will help you more if you already have some know-how of web development.