Are you wondering whether to choose Wix or WordPress to build your website? WordPress is the world's most popular website builder, but it's not the only choice when it comes to selecting a CMS. When you compare WordPress vs. Wix, it's clear that these two are completely different CMS. One is a website builder designed for beginners to create simple websites. The other is a powerful CMS, and the learning curve is steep.
However, if you are designing a site for the first time, you may not know which one is the best. It is an important decision. We need to consider each feature, how much we can scale it down when the traffic to the site increases, and finally, how much it costs. This comparison between Wix and WordPress will explain all the most important features of the two platforms and will help you decide which one is better for your business website.
What is WordPress?
WordPress website development is the most well-known content management system (CMS). It started as a blogging platform but is now used for virtually any type of online content. Currently, WordPress runs more than 455 million websites on the Internet.
One of the main reasons WordPress is so popular is that it is an open-source platform. Anyone can create a website, design products, and customize it according to business requirements without coding skills.
However, it is essential to know the difference between WordPress.com and WordPress.org. WordPress.org refers to the popular open-source CMS.
WordPress.com is a managed hosting that helps you build websites using WordPress software, and WordPress.org is a source that lets you download the software and use it to build and manage your websites. TechCrunch is one of the leading WordPress websites and is famous for its authentic press release news.

What is WIX?
In short, Wix is an all-in-one platform that allows you to build your website from scratch without any coding skills. It is sold as the best tool for beginners and provides 24×7 customer support.
Wix is an online platform that permits you to design and publish a website. It's very easy to access Wix. Just visit Wix's main website and sign up for an account, and you'll be able to manage all the steps from zero to a beautiful and functional business website. Conqr is known as the best example of a unique Wix website.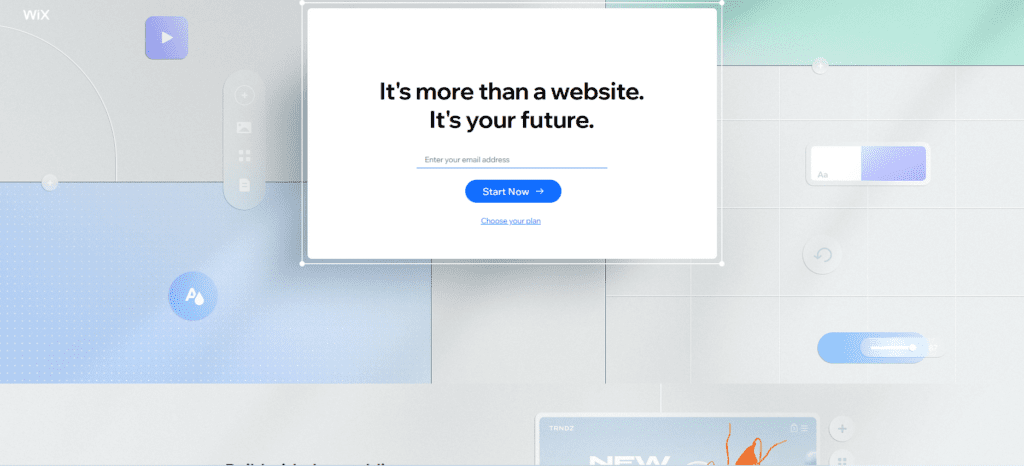 WordPress vs Wix: Comparison Key areas
WordPress vs Wix flexibility
Ideally, the website-building platform should be easy to use and easy to expand. However, ease of use and flexibility is often a trade-off. The more control you have over site administration and design, the more difficult it is to learn and manage that platform. The simpler the platform, the more difficult it is to control.
So, choosing a platform is also about deciding whether you want flexibility or ease of use. Let's check the flexibility of Wix and WordPress.
WordPress flexibility
WordPress is more flexible. You can fine-tune the face of your site, modify its settings, create and manage blog posts, enhance security, change each style of your category pages, add forms and live chat to the front end, and more. You can customize it according to your business needs. WordPress plugin development service allows you to develop it according to your website design.
Wix flexibility
Wix permits users to develop and launch sites fast. However, one must sacrifice flexibility due to this ease of use.
Wix has its own custom domain, allowing you to select site colors, fonts, and layouts and add advanced elements such as animations and scrolling effects to pages. However, you can't add a form or feature image to a blog post, switch templates after publishing a website, or edit basic code.
WordPress vs Wix – Ease of use
As many people already know, using WordPress has many advantages, and therefore many people use the platform. Wix promotes itself as a full-service website builder available to everyone. Wix provides over 500 website templates that allow users to drag and drop elements to create a site in minutes without a development company.
Because Wix is a hosted platform, developers are responsible for managing all available tools and applications, and users cannot import external tools from other sources. Once a new site owner has selected a template, they will not be able to leave the template. However, the Wix interface is user-friendly, has been made with the novice in mind, and provides 24-hour support for troubleshooting and answering questions.
With WordPress, more functionality is left to the user. The WordPress self-service site has an administrative dashboard that gives you access to the tools you need to install themes, make basic customizations, create pages and articles, and add plugins to add features.
How does each platform deal with e-commerce?
Wix offers e-commerce capabilities but is not as flexible as WordPress's WooCommerce or Easy Digital Downloads.
WordPress
While WordPress is primarily known as a website builder platform, it is also a mainstream e-commerce platform, with WooCommerce accounting for 42% (or more) of all e-commerce sites. WordPress eCommerce developers use plugins to add EC functionality. The two most common choices are
WooCommerce – Specializes primarily in physical products as well as online services. A large number of websites are using wooCommerce.
Easy Digital Downloads – Specialized primarily for virtual products
You can also find a huge marketplace of add-on plugins with each plugin to further extend your store. Like on a regular WordPress site, you have great flexibility in displaying your products and handling fulfillment.
Wix
Wix lets you choose from pre-built online store templates or add Store apps to existing templates. You can then add products and manage the store with a pop-up interface.
Simple products are fine, but they lack the flexibility to go beyond simple text fields and delve into and customize product information.
Wix is enough to sell T-shirts. However, you may want to be more flexible with variable or customized products.
Finally, the e-commerce features of Wix are only available on special store plans that are slightly higher than the regular Wix site.
Themes and Design Options
With Wix and WordPress, you don't have to design your site from scratch; you can use pre-designed designs (and customize them too). Wix calls these design templates, and WordPress calls them themes. A Custom web design agency also does the alterations in the theme by coding.
In the number of ready-made designs available, WordPress is clearly the winner.
WordPress
Wix's more than 500 templates offer many choices. However, WordPress has tens of thousands of free and premium themes, so the Wix selection isn't missing from WordPress.
From the WordPress dashboard, you can search for thousands of free themes and install them at the click of a button. A WordPress design company can also provide you with custom themes for your e-commerce website.
Once you've installed your theme, you can customize the WordPress website using a real-time WordPress customizer. It allows you to fine-tune the non-technical options sidebar and preview your changes in real-time.

Wix
Wix offers 500 templates to pick anyone. You can choose your preferred template in the setup wizard and customize it using the WYSIWYG interface.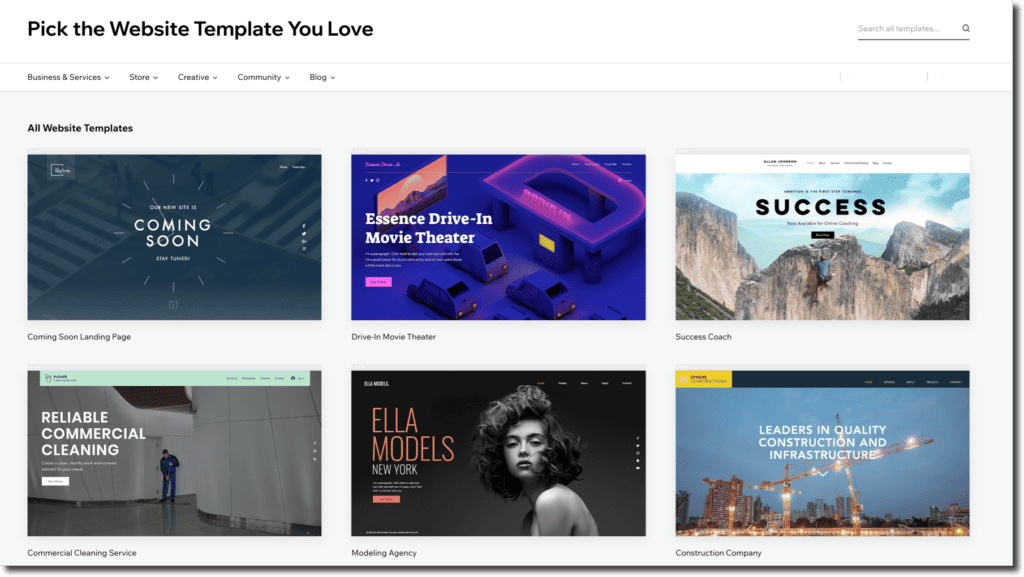 So, if you want to have more design options, you'll get WordPress.
Wix and WordPress Plugins Comparison
While built-in functionality is a key factor when evaluating a website-building platform, it is not the only factor.
Most platforms have third-party enhancements because even the most feature-rich platform cannot meet the needs of all site owners. Wix and WordPress refer to Wix as an "add-on" and WordPress as a "plugin" and provide these so that site owners can add features and extend the platform's functionality to their own needs. Let's compare each plugin below.
Wix Plugins
Compared to other website builders, Wix is the website builder with the most extensive third-party extensions. The Wix app demand suggests more than 250 free and paid add-ons. These add-ons are designed for various purposes, including collecting leads, analyzing traffic, interacting with visitors, and designing sites. WPbeginners take this image.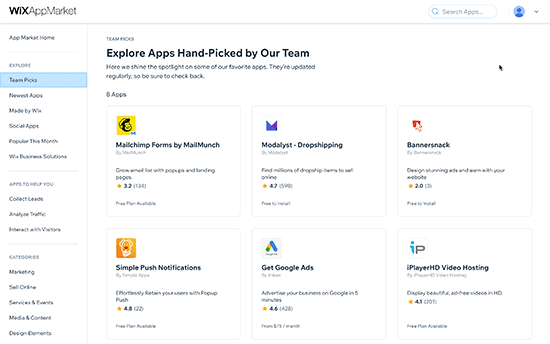 WordPress plugins
WordPress has the largest collection of third-party extensions compared to other website-building software. WordPress plugin development services are the best solution for your private business to focus on the key points.
There are 55,000 free plugins in the official plugin directory alone.
WordPress's vast plugin means that it has substantially unlimited customization options. Still, at the same time, it means that the learning curve is steeper, and the responsibility in site management is greater.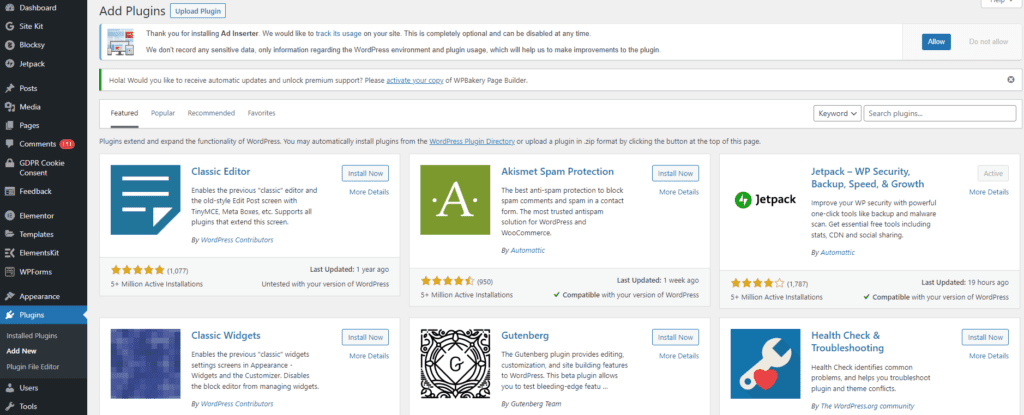 Wix vs WordPress – Pricing Plans
Running a website costs a lot. Hidden costs, which may not have been anticipated, may also occur. So, it's important to know how much the platform you're trying to buy will cost.
Wix Web Design Cost
Wix has a free plan. The only restriction is that you have to utilize fixed storage and bandwidth in addition to the Wix domain. If that is enough, please use it.
However, if you need your domain, exceed bandwidth or storage limits, or require certain qualities such as e-commerce, you will require to upgrade your account.
The Wix Premium Plan starts at $14/month and has several tiers up to $39/month. The e-commerce plan starts at $23 per month, while the enterprise plan starts at $500 per month.
WordPress Web Design Cost
WordPress takes about $11/month to cover basic functions. However, in practice, an initial cost of about $200 and a small monthly cost of about $11 to $40 per month should be expected. If you need to hire a web designer, the cost of WordPress could soon be over $1,000.
Let's take a glance at the six price components you will need when using WordPress.org.
Domain name: $12 per year
Hosting: $2.95 per month.
Existing theme: $0-$200 (one-time fee).
Plug-ins: $0-$1,000 (continuous or one-time).
Security: starting at $50 (continuous or one-time).
Custom WordPress website development fee: $0-$1,000 (one-time fee).
After all, whether WordPress or Wix is more expensive depends on which web hosting you choose and how much money you spend on your plugins. But WordPress will be much cheaper.
Security and SEO
When you compare Wix and WordPress in terms of security, you don't have to worry because they are both designed to be safe. The difference is in the implementation.
With WordPress, you can manage security yourself. However, this also implies that you must be familiar with the vulnerabilities that you may have on your site and how to apply the patch. Of course, security updates are always in place, but it's better to take good action yourself. With Wix, you have little control over security except to protect your password. If you are hacked, or Wix finds a vulnerability, you can hardly prevent it or prevent it from happening in the future. You will be dependent on Wix to keep your site safe.
Thus, these two are quite similar in SEO. With Wix, you have little control, and there's not much you can do to optimize SEO or reduce page load speed. WordPress development agency also provides technical WordPress SEO after the development. WordPress's famous plugins used for SEO are Rank Math and Yoast. Wix also provides different options for SEO, but the famous Wix plugin used for SEO is Wix Analytics.
Which is more popular – Wix or WordPress?
WordPress is now the most favored website forum in the world, handling 41.0% of its websites (this is important, considering that the second most popular platform, Shopify, only runs 3.4% of its websites).
On the other side, Wix is the most famous website platform on the Internet. In terms of traffic, it surpasses its direct rivals Squarespace and Weebly. However, Wix is not far behind WordPress's popularity.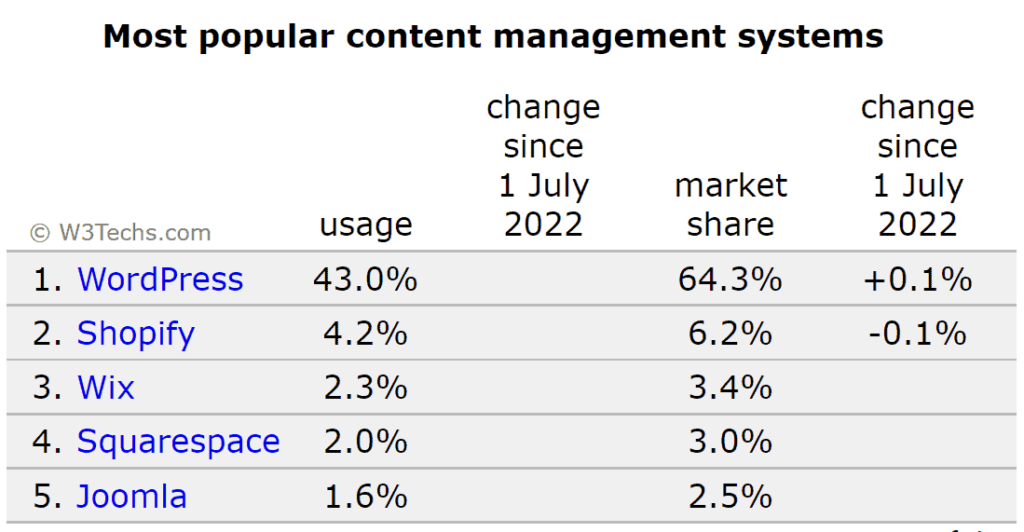 Closing Words: WordPress vs Wix Which one should I choose?
After a complete overview of WordPress vs. Wix's different features, we conclude that WordPress has a self-organized community that is more flexible, easy to change, and can be used for more projects.
Wix is more limited, but it's a good choice for non-technical users who don't need much customization and want to set up a basic website. Wix can build websites quickly, but adding features in the future can be expensive or impossible.
WordPress has advanced features that make it easy for bloggers and businessmen to get things done easily.